---
Birch Blogs
Posted by Rachael Hammack on
Looking for a cute way to dress for you next game day? This blog has got you covered with some game day outfit inspo!
---
Posted by Rachael Hammack on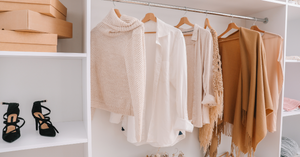 5 Wardrobe Staples That Every Woman Needs in Her Closet Have you ever found yourself shopping for clothes with no idea what you should buy? Or even worse, going home with bags and bags of clothing purchases only to realize that you don't have the right elements to style your new pieces. We've all been there: your paycheck burning a hole in your pocket, but you don't know how to make the most of your budget and closet space. We're giving you full permission to shake off that stress because we have all the answers. Keep reading for a comprehensive...